Annual Mavis Batey Essay Prize
Entries are invited for
The 14th Annual Mavis Batey Essay Prize 2018
Closing date for submissions Friday 18th May 2018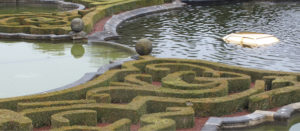 Our annual essay competition is intended to encourage vibrant, scholarly writing and new research, especially by those who have not yet had their work published. It is open to any student, worldwide, registered in a bona-fide university or institute of higher education, or who has recently graduated from such an institution.
Submissions must be 5,000 to 6,000 words and the only restriction on subject matter is that it must be of relevance to garden history. The prize includes an award of £250, free membership of The Gardens Trust for a year and consideration for publication in our peer-reviewed, scholarly journal Garden History. All previous winners have been accepted for publication, and often the best of the non-winning entries are invited to submit to the journal as well.
Download the flyer, rules and Entry Form here (all in one three page document)
Any further enquiries can be made by email 
–
The Mavis Batey 13th Annual Essay Prize 2017
Closing date for submissions was 8th May 2017
Our judges are delighted to announce that the thirteenth Annual Essay Prize for 2017 has been awarded to Yichi Zang, a PhD candidate from University of Technology Sydney, Australia, working on garden history in the British concessions of China.
The prize consists of an award of £250, free membership of The Gardens Trust for a year and consideration for publication in our peer- reviewed, scholarly journal Garden History.
It will be presented to Yichi Zang at our Autumn 2017 Conference at Sheffield on New Research on Chinese Gardens and Landscapes, where he will be speaking on Saturday on From Decoration to Necessity: the functions of Public Parks in the British Concessions of China, 1842–1937.
We hope many of you will be able to attend our Conference, held in association with the Department of Landscape at the University of Sheffield, and offer our winner your congratulations in person.
–
The Mavis Batey 12th Annual Essay Prize, 2016
Our 12th Annual Essay Prize was renamed The Mavis Batey Annual Essay Prize in honour of our former President, the late Mavis Batey. It seems a fitting memorial to such an inspirational woman, who did so much to build the discipline of garden history through her various roles in the garden history field.
The 12th Annual Essay Prize was awarded at the Gardens Trust AGM at Robinson College Cambridge on 2nd September 2016.
Judging the entries for a prize isn't as easy as it might sound. It's not like marking an exam paper or even reading a series of essays written under exam conditions.There the answers are often straightforward and you can make quick decisions, or the pieces you have to read are comparatively short and it's possible to make a swift decision as to a grade.In a competition like the Mavis Batey Essay Prize – where there has to be a winner it's more difficult. It makes judges very aware of the amount of time and effort that has gone into every entry, not just in the writing but in the enormous amounts of research that had to be done in order even to be able to start writing.
This year our task was harder than ever. The standard of entries was high – there were at least five we thought had the potential for publication. The subjects were very varied, although mainly well researched and written studies of individual gardens or gardeners. As a result the judges' discussion about the qualities and merits of each essay was very considered. There was, however, unanimity on one thing: that one prize wasn't enough. So, apart from the eventual winner, the judges decided to give a Highly Commended award to two other entries, and have encouraged the writers to submit them for publication.
The first was Sarah Law's extremely scholarly essay on the 18th century rides at Rufford Abbey in Nottinghamshire which investigated a previously overlooked aspect of landscape history in a very informative and fresh way. The other was another scholarly essay on the 18th century, but this time on garden making in China by Liyuan Gu, which made a coherent case for a major revision of our knowledge and understanding of the subject.
However, in the end the prize was awarded to a wide-ranging and vibrantly written essay "One gigantic gallery: Land art in Australia" by Ruth Oakley that challenges our preconceptions about all sorts of things. You'll need to read to read it to see how! We hope you will enjoy reading the winning pieces in Garden History in due course.
And as a happy footnote, as all three of the winners, and most of the other entrants are working on MAs or Ph.Ds in Britain who said garden history in academia was dying?
–
11th Annual Essay Prize, 2015
The prize has been won by Josepha Richard from Sheffield University, for her fascinating essay Uncovering the Garden of the Richest Man on Earth in Nineteenth Century Guangzhou: Howqua's Garden in Henan China. This essay is of particular interest as very little work has been done on early nineteenth century Chinese horticulture by either Western or Eastern garden historians. The merchant's gardens of Canton (Guangzhou) were often the only Chinese gardens encountered by Europeans, as most foreigners at the time were forbidden to travel beyond the port city. While these gardens were described in visitors' diaries, paintings and early photographs, Richard has examined Chinese as well as European sources, to provide a conjectural reconstruction of the grandest and most famous of Canton's merchant gardens. The judges were particularly impressed by Richard's scholarly approach, the range of references she unearthed, and her thoughtful – and convincing – analyses of what is often mere scraps of information.
Melanie Veasey of Buckingham University was also Highly Recommended for her essay The Richest Form of Outdoor Furniture: The Open Air Exhibition of Sculpture at Battersea Park, 1948. This detailed exploration makes excellent use of primary sources, particularly the archives of the London County Council, to examine the legacy of this seminal outdoor sculpture exhibition which introduced the British public to contemporary art, created a fashion for open air sculpture and established the reputation of Henry Moore.
Other entries addressed such diverse subjects as monastic ruins in eighteenth century gardens, royal parks and war memorials in the urban landscape.
–
10th Annual Essay Prize, 2014: result
The 2014 annual GHS essay prize was won by Karen Fitzsimon from Buckingham University. There was a strong field this year, with entries from as far afield as Cardiff and Kew, Bath and Sheffield, but Fitzsimon's essay, Order In the Landscape – Rediscovering Preben Jakobsenwas the unanimous winner.  This important piece of scholarship reassesses the work of the well known but little understood Danish landscape architect. The judges were particularly impressed with the author's use of primary sources, her exploration of Jacobsen's influences and inspirations, and her analysis of existing sites and site plans.
Karen will be talking about Order in the Landscape: rediscovering Preben Jacobsen on Wednesday 11 March in our 2015 London Winter Lecture Series.
Suzanne Patman of RBG Kew was Highly Commended for A New Direction in Garden History – a lively exploration of guerrilla gardening.  Nick Chibnall, a Ph D student at Buckingham, was also Highly Commended for The Palms of the Orient, a detailed and scholarly examination of the hotel gardens of the late nineteenth century Riviera.
This year's other entries encompassed a range of subjects, from Thomas Mawson's prospectus for a landscape architecture course, through the attitudes of women writers to the C18 English Landscape movement, to the place of the Royal Parks in the national consciousness.
The sheer range and vibrancy of the writing demonstrates that Garden History is thriving, and we look forward to another crop of stimulating essays in next year's competition.
–
9th Annual Essay Prize 2013: result
The 2013 GHS essay prize was won by Jane Whitaker, a PhD student at Bristol University, for her fascinating essay, The Old Arcadia, The Garden of the First Earl of Pembroke at Wilton.
While much is known about the later garden at Wilton, this essay takes a fresh look at the site and unearths a forgotten Renaissance garden. Whitaker has placed her subject well within the cultural context of the time, with frequent references to contemporary poetry and politics, while the garden itself is convincingly analysed against the framework of Elizabethan rural estates. The essay is well researched and well argued, making excellent use of archival and cartographic sources; what most impressed the judges, however, is the way Whitaker challenges accepted wisdom and breaks new ground, making a real contribution to our knowledge of Renaissance horticulture in general and of Wilton in particular.
2013's entries covered an impressive range of subjects, from Victorian artists' gardens, through classical iconography in C18 landscape parks to a study of the role of the Thompson family in English horticulture, but despite such riches, the judges' choice was unanimous.