Newsletters
Our newsletter GT NEWS (formerly GHS news) is published three times a year; in spring, mid-summer and late autumn.
It contains a mixture of news, details of our (and other people's) events, members' research and other views, and less formal articles.
It has 48 pages (with 4 pages of adverts) and is printed in full colour, using soya based ink, recycled carbon balanced paper and biodegradable mailing film.
GT NEWS is mailed to members but a selection of older and current issues are (freely) available below.
Just click on the cover, or, where no cover is shown, on the link, to download free copies.
OUR LATEST EDITION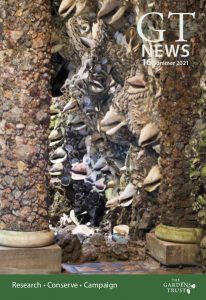 Our Summer 2021 includes:
From the Garden Chair – Peter Hughes our Chairman writes
Engaging with our Future: GT secures a National Lottery Heritage Fund grant
Greatford Hall, Lincolnshire added to HE's Register at Grade II
Planning Reform and Historic Parks and Gardens: Ten things you need to know…
Management regimes for lawns and hedges in historic gardens
John Warwell — the mystery man of Goldney grotto
Stoke Poges Memorial Gardens, Buckinghamshire
Some of our rapidly evolving programme of on-line Events
Other recent editions: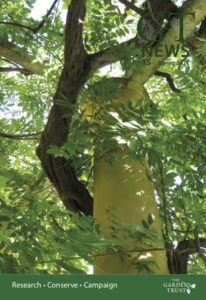 Our Spring 2021 edition includes
From the Garden Chair – Peter Hughes our Chairman writes
County Gardens Trusts swing into action – responses to Covid-19
Norfolk Gardens Trust's Unforgettable Gardens Conservation Project
The Combe, Wells, Somerset
Bedfordshire Head Gardeners Network
Chiswick House Gardens
What happened to British Modernism? More on our cover from last time
Some of our rapidly evolving programme of on-line Events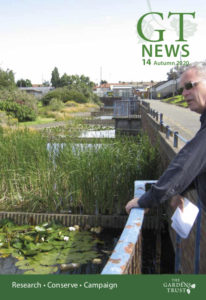 Our Autumn edition includes
A Review of our last Five Years from our recently retired Chairman
As well as articles on
50 Fabulous Features: Land of the Fanns 19
Discussion of 'One Man Went To Mow…' on a new approach to grass care in historic landscapes
The new additions to the list of the Best of England's Post-War Parks, Gardens and Landscapes Protected
The Improvement Garden at Stockwood Park, The People's Arcadia and its late head gardener The gifted Bob Burgoyne
And on Stowe Gardens revisited – arguably the most influential British garden of all
And an outline programme of our upcoming Events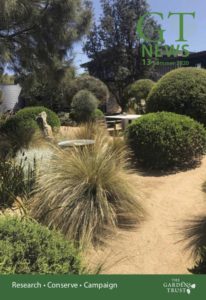 Our Summer edition features our Unforgettable Gardens campaign;
London GT's response to the proposals for Victoria Tower Gardens;
Gardeners under Lockdown;
Learning from The Blackamoor: Garden Statuary;
National Playing Fields Association & King George's Fields;
Rescued for £18: Dropmore, and the Monkey Puzzle tree;
Our now largely on-line events programme in time of Covid-19…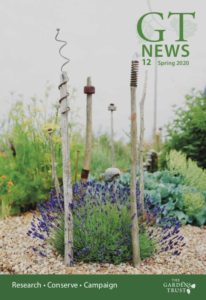 Our Spring 2020 issue celebrates the campaign to save Derek Jarman's garden;
Announces our new campaign on Unforgettable Gardens;
Gives details on how to enter our Annual Essay Prize and participate in our New Research Symposium;
Encourages entries for our Volunteer of the Year Award;
Highlights the Risk to the renowned Glasshouse complex at Tatton Park;
Features articles from members of our County Gardens Trusts;
And flags up our – now sadly curtailed – Events programme;
Keep safe, keep well, keep reading!
Our Autumn 2019 edition is dominated by articles arising from our Summer Conference, concentrating on the life and work of Mavis Batey and her part in the conservation efforts of the Garden History Society, now the Gardens Trust.
This series of articles is brought right up to date with David Lambert's article on Conservation and the Environment, and his reasons for becoming a part of Extinction Rebellion.
It also includes articles by David Marsh on Anniversaries,
an update on parksandgardens.org from Philip White,
on Jemima Marchioness Grey at Wrest Park, by Jemima Hubbersty,
on the garden at Bottengoms, Essex, by Jill Devon,
and The Highbury Pergola project.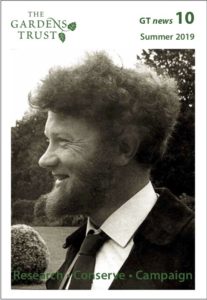 Our Summer 2019 edition is dominated by our recent tribute to Christopher Thacker at the Garden Museum. He was the first editor of our journal, Garden History, the summer edition of which goes out with this mailing. Our recent event at Bramham Park seems to have tied in well with the themes brought up by our exploration of Christopher's life and work in garden history.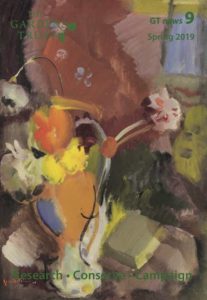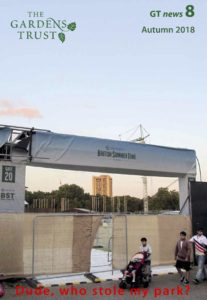 Autumn 2018: Extra material, we ran out of space…
Summer Conference 2018, Birmingham, report
Northern Ireland Gardens Study Tour 2018 report
Denmark Gardens Study Tour 2018 report
Japan Gardens Study Tour 2018 report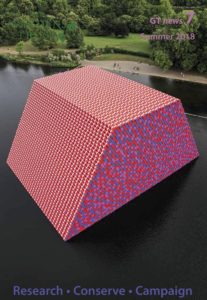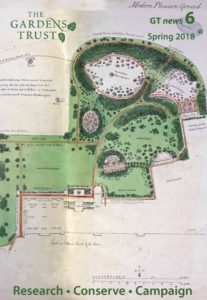 See below for our archive
Contribute to GT NEWS
Charles Boot, the editor, is keen to receive news items, research items, and other articles; international news is particularly welcome.
Deadlines and publication dates are:
GT NEWS
(48 pages)
deadlines: 1 February, 1 June & 1 October
for distribution: mid March, mid July (with journal) & mid November (with journal)
Submissions in most popular formats are welcomed, as email attachments to the editor. If you have illustrations please send as separate .jpegs or .tiffs, keeping in mind our page size (maximum width 150mm) and that we need strong images at 300dpi. A suggested word count for the agenda section is from 400 to 1000 words (maximum, especially if you have included pictures), our news and views section is for short items of up to 200 words. Have a look at previous editions for the sort of thing we are looking for, though we hope that all sorts of subjects come up. It's your newsletter…
Alternatively send hard copy to:
Charles Boot, GT news Editor,
19 St Mary's Square, Aylesbury, Buckinghamshire HP20 2JJ
For guidance on how to present items for publication, please use our notes for news contributors.
Contact our membership services for sample copies of the GT NEWS or download an older edition as listed: downloadable versions may differ slightly from the printed versions (and the pictures aren't as dense).
The archive: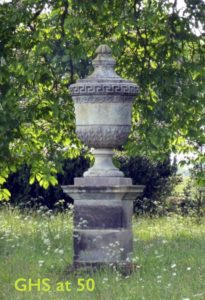 Our account of 50 years of The Garden History Society,
1965–2015, compiled by Tim Richardson
GHS micro-news 95a Summer 2015
GHS micro-news 94a Winter 2014
GHS micro-news 93a Summer 2014
GHS micro-news 92a Winter 2013
GHS micro-news 91a Summer 2013
GHS micro-news 90a Winter 2012
GHS micro-news 89a Summer 2012
GHS micro-news 88a Winter 2011
GHS micro-news 87a Summer 2011
GHS micro-news 86a Winter 2010
GHS micro-news 85a Summer 2010
GHS micro-news 84a winter 2009
GHS micro-news 83a Summer 2009
more to come…