CGT Publications
County Gardens Trusts are a fantastic mine of information on the historic parks and gardens in their counties, and many of them have channeled this knowledge into books. Each one is different, but between them, these publications make available to the public the CGTs uniquely detailed research and passion for the subject.
Publications about Humphry Repton from County Gardens Trusts
To celebrate the Repton 200 Anniversary in 2018 several of the CGTs are publishing books about Repton's work in their counties. This list will be added to and updated as more titles are released over the year. Please follow the links provided if you would like further information about a title or wish to purchase.
Hertfordshire
Humphry Repton in Hertfordshire by Susan Flood and Tom Williamson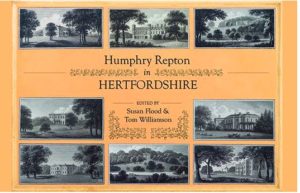 Repton made a particularly significant contribution to the landscape of Hertfordshire, working at no less than eighteen places in the county, ranging in size from great mansions like Cashiobury and Panshanger to more modest 'villas' owned by wealthy businessmen and industrialists, such as Wood Hill in Essendon. Particular attention is given to those places for which Repton prepared one of his famous 'Red Books'. The book presents complete transcriptions of all the key documents relating to Repton's activities, including the full text of seven Red Books.
www.hertsgardenstrust.org.uk
ISBN 978-1-909291-98-0, March 2018, hardback, 304pp
Price £25 plus postage and packing. Available to order https://www.herts.ac.uk/uhpress/books-content/humphry-repton-in-hertfordshire. Also available from Amazon or any good book store.
London
REPTON IN LONDON: The Gardens and Landscapes of Humphry Repton (1752-1818) in the London Boroughs

Publication date April 2018
Price £15 plus postage and packing. Available to order at www.londongardenstrust.org/publications/repton.php
Norfolk
Humphry Repton in Norfolk
The result of 2 years research by the Norfolk Gardens Trust, edited by Sally Bate, Rachel Savage and Tom Williamson. 22 Repton sites are described along with the evidence there is for his involvement. The images from all 7 Norfolk Red Books are included among the 230 colour illustrations.
www.norfolkgt.org.uk
Publication date 29 May 2018: launch at  St Michael's Church, Aylsham at 6.30 pm
Price £20 plus postage and packing. Details of how to obtain a copy by post will be on the Norfolk Gardens Trust website nearer the publication date.
Yorkshire
On The Spot: The Yorkshire Red Books of Humphry Repton, landscape gardener by Patrick Eyres and Karen Lynch
This book explores all the places attributed to Repton in Yorkshire:- Armley, Bessacre, Harewood, Langold, Mulgrave Castle, Oulton, Owston, Rudding and Wentworth Woodhouse. It contains the most up-to-date research and reproduces the extant Red Books, courtesy of the owners, along with a festival of associated imagery that includes all Repton's Yorkshire illustrations for Peacock's Polite Repository.
www.yorkshiregardenstrust.org.uk
Publication date May 2018 New Arcadian Press.
Reserve a copy by emailing Patrick Eyres
Publications about 'Capability' Brown from County Gardens Trusts
To celebrate the Capability Brown Festival, we have gathered together here the CGT books on Brown – please follow the links provided if you wish to make a purchase.
Follow the Capability Brown trail around Cambridgeshire with a series of leaflets setting out walks to take in some of his most famous landscapes: Wimpole Hall, the Cambridge Backs, and Madingley, as well as his home at Fenstanton.
The leaflets can be downloaded from the Cambridgeshire Gardens Trust website.
THE GARDENS TRUST SUMMER CONFERENCE 2016 | 2-4 September 2016
Robinson College Cambridge.
Visit the sites and use the leaflets!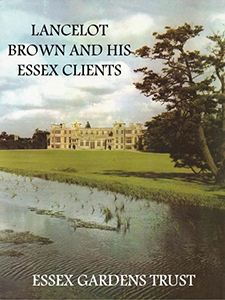 Essex Garden Trust's new publication, Lancelot Brown and his Essex Clients is a gazetteer of Brown's eighteenth century commissions that reshaped the landscape of several of Essex's historic houses. Sites included are Audley End, Belhus, Coopersale House, Copped Hall, Hallingbury and Hatfield Forest, Navestock, Shortgrove, and Thorndon Park.
Available from:
Jill Plater,
5 Wakelin Chase,
Ingatestone
CM4 9HH
(Tel. 01277 352867).
jillplater@hotmail.com
Price: £8.00 plus £2.00 postage and packing.
Hertfordshire Gardens Trust has created Hertfordshire Landscape Parks – Ten walks devised to celebrate the Tercentenary of Lancelot Brown, a series of leaflets with information and walks for Brown landscapes in Hertfordshire, covering Ashridge, Beechwood, Brocket Park, Digswell Park, Kimpton Hoo, Newsells, Panshanger, Pishiobury, Woodhall Park and Youngsbury.
The booklets can be downloaded here.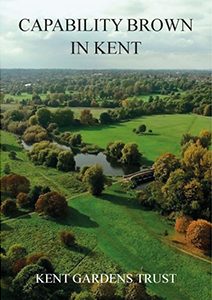 Commemorating the 300th anniversary of Capability Brown's birth, Capability Brown in Kent tells the story of the great 18th-century landscape gardener's  commissions in Kent.  He worked at Ingress, Leeds Abbey, Valence, Chilham Castle and North Cray Place. Although most of these sites have changed greatly since his day, the authors demonstrate clearly how a detailed look at what he achieved in Kent provides valuable insights into his remarkable output throughout the country.  The book describes the social context of the time and shows how Brown was adept at moving amongst the aristocratic and professional landowning classes. This allowed him to apply his genius as a landscape gardener and his acumen as a businessman to the creation of five harmonious landscapes in Kent, and over 200 throughout England.
116 pages, fully illustrated, £9.50 (£8.00 for members of Kent Gardens Trust).
ISBN 978-0-9934044-0-5
Available from the Kent Gardens Trust website or from your usual bookshop.
Norfolk

Capability Brown in Norfolk edited by Sally Bate: The work of Brown in Norfolk has never been fully explored and published before.  The team of 12 volunteer researchers, with guidance from Prof. Tom Williamson, were proud to publish on 30th August 2017 a 188-page book lavishly furnished with 138 coloured images including 3 Brown plans and a contract – all never seen in print before.  The discovery of a Brown-built walled kitchen garden and a greenhouse with a heated rear wall are among the Brownian features which survive today.  The three Brown sites of Kimberley, Langley and Melton Constable are described in full, along with lesser works at Holkham and Buckenham Tofts.  A chapter looking at park-building in 18th century Norfolk puts Brown's work in context.
Available in-store, or by phone, from Jarrolds, Norwich (01603) 660661 or online http://www.jarrold.co.uk/departments/books/local-books and cost £15.99
Noble Prospects: Capability Brown & the Yorkshire Landscape by Karen Lynch has now been published by the Yorkshire Gardens Trust and the Mercer Art Gallery to accompany the exhibition of the same name which runs at the Mercer 25th June-11th September.
Further details will be on the Yorkshire Gardens Trust website or look out for updates on Facebook.