Fundraising Appeal 2023
Will you help us share a love of garden history with more people?
At our core, the Gardens Trust's mission is to conserve historic designed landscapes. We achieve this most notably through our role as a statutory consultee in the planning system, through supporting research and recording work, and by working closely with the amazing network of County Gardens Trusts especially in relation to volunteering. Over the last two years, thanks to a grant from the National Lottery Heritage Fund, we have been able to expand our volunteer support and audience development teams to make sure our work reaches as many people as possible. Now we want to build on that beginning, but to achieve this we need your support.
Together, we know that the best way to be successful in our work is to involve as many people as possible from all walks of life, so that they too will value and care for the historic parks, gardens and designed landscapes that surround us all. From local parks to Victorian cemeteries, to the magnificent landscapes of Lancelot 'Capability' Brown, we want to enthuse new audiences in their intriguing histories and their significance to the lives we live today.
Will you support us in our endeavour to reach new people and make a lasting impact in the 21st century?
Thanks to a brilliant team of volunteers and staff, we have already been able to deliver a bold and exciting range of engagement activities. These include:
The Community Champions initiative: an innovative programme which involves partnering with volunteer organisations such as local park friends' groups to deliver our unique Garden History Lucky Dip activity.
The Garden History Lucky Dip is an interactive session suitable for all ages and abilities. Through the exploration of everyday objects it sparks conversations and curiosity about garden history. From pineapples to poppy seeds, tennis balls to trumpets, these objects serve as windows into the surprising and captivating stories of gardens through time. This activity helps to break down the perception that garden history is confined to dusty archives, dates, and facts. It inspires participants to find out more and develop a love of garden history.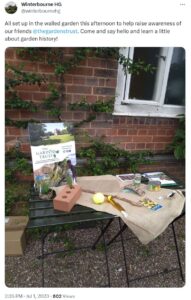 The Community Champions initiative is a bridge between us and local communities on a national scale. This initiative has enabled the Gardens Trust to foster a new network of supporters who are spreading the word about us and everything we do.
Our recent online exhibition 'The Bicycle Boys: An Unforgettable Garden Tour' is another great example of activity which helped to reach a new audience. In 1928, young American landscape architecture students Loyal Johnson and Sam Brewster cycled around the UK visiting over 80 unforgettable gardens. Loyal recorded their journey, experiences, and the gardens they saw in a diary and photograph album, which were donated to the RHS Lindley Library by his son in 2015. They provide a fascinating snapshot of 1920s life, and of the gardens that Loyal and Sam visited.
Working with the RHS Lindley Library and County Gardens Trusts, we used Loyal and Sam's journey to highlight different historic parks and gardens, showing how vulnerable they can be and how research helps to highlight their importance and ultimately protect them. Available for anyone to view online and promoted through social media to a wide range of people, 'The Bicycle Boys' was a great success in sparking interest amongst those new to garden history.
Or you might be interested to hear about our recent Terrific Terrarium making workshop at Forest Gate, London. Focused on a small group of people who had previously not heard of the Gardens Trust, we offered an overview on the long history of terrariums and the work of the Gardens Trust, followed by a terrarium making session. This allowed us to reach a new audience of young aspiring mini gardeners.
One participant said "It was really interesting; I enjoyed the background history at the start of the workshop! I had no idea the history of terrariums went that far back."
How You Can Make a Difference
Our grant from the National Lottery Heritage Fund has now come to an end and we need to find new ways of supporting the work of our volunteer support and audience development teams, and to enable us to deliver our programme of engagement activities. Please would you consider making a donation to help share a love of historic parks and gardens with more people, so that they too might join the mission to protect them for future generations?
• £10 could help to create a package of promotional material to explain the work of the Gardens Trust to new audiences.
• £50 could fund a new Community Champion volunteer, including training, providing the box of goodies they need to run the Garden History Lucky Dip activity and staff time to support them.
• £150 could fund a terrarium making workshop for young people including teaching the long history of terrariums.
To support us in our work please visit www.thegardenstrust.org/donate today or you can send a cheque made payable to 'The Gardens Trust' to 70 Cowcross Street, London, EC1M 6EJ, or contact Tara at tara.hamdi@thegardenstrust.org.
We hope you will consider supporting us in sowing the seeds of curiosity, cultivating a shared love for garden history, and watching our community bloom! Thank you for your continued support.