GT Annual Conference and AGM 2020
And now for something completely different…
The Gardens Trust Annual Conference
and Annual General Meeting 2020
Richmond and Wensleydale, North Yorkshire Midday,
Friday 4 September to Sunday 6 September
The Conference programme will run from midday on Friday to approx. 5pm on Sunday 6 September 2020 with the AGM and New Research Symposium held on Saturday. We will be based at the Holiday Inn, just off the A1 (M)/A66 at Scotch Corner DL10 6NR, which has been attractively refurbished and updated (with efficient double glazing) and offers ample conference facilities and on-site parking. We will also be offering some 'Super-saver' rooms at the nearby Travelodge. Darlington station is 20 minutes away by frequent local express bus or taxi to the hotels.
All our visits will be to privately- owned and run historic estates, the majority of which are 'nationally important' listed buildings and/or registered landscapes; we will have an introduction to some of these from the owners and access to many areas not normally open to the public.
Provisional visits programme
Friday 4 September
An afternoon in Richmond with the alternatives of either the exquisite Picturesque landscape of Temple Grounds
or a plantsman's hidden gem at Millgate House (above)
plus a tour of Richmond's Georgian Theatre, the UK's oldest working theatre,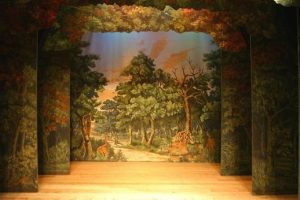 which houses the 'Woodland Scene', reported to be the oldest surviving stage scenery in the world.
Saturday 5 September
Morning visit to Aske Hall's designed landscape with, provisionally, a welcome from Lord Ronaldshay and a guided walk of the landscape which 'Capability' Brown visited and had surveyed in 1769, with its William Kent temple.
The New Research Symposium and AGM will be held at the hotel in the afternoon.
Our conference Reception and Dinner will be held at The Station, formerly Richmond's Victorian railway station (opened 1846) but converted and refurbished by the Richmondshire Building Preservation Trust as a community enterprise with restaurant/bar, artisan food-sellers, cinema, gallery and heritage centre, opened in 2007.
Sunday 6 September
A morning visit to Constable Burton, a grade I listed house built 1762–67 by John Carr of York for Sir Marmaduke Wyvill (see top) and still the home of the Wyvill family who will guide us, along with their long-standing head gardener. We shall see the ground floor of the house and the grounds.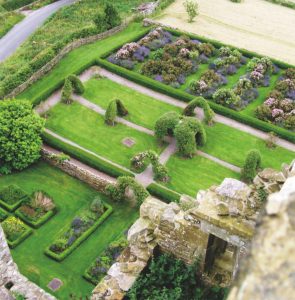 After lunch in the Great Hall of 14th-century Bolton Castle and a viewing of its historically-informed re-created gardens we will have a guided walk around nearby Bolton Hall's gardens, much of their late-17th-century formality still apparent having survived, perhaps due to absent owners, both the extravagancies of the 'Landscape Movement' and minor alterations in the 19th century.
Booking via Eventbrite (with a postal option) is planned to open on Friday 15 February 2020, when the full programme will be available.
Ticket price for the full conference will be in the region of £395 with other options such as non-residential and Saturday only also available. Please note that, to access parts of the estates' landscapes included in our visits there will be significant walking on rough ground and steep steps at both our lunch venue in Bolton Castle's Great Hall and at Millgate House garden. When booking, we will ask you if you think you may have any difficulties with this.
Please contact Virginia Hinze
or: 01273 844 819 with any queries.